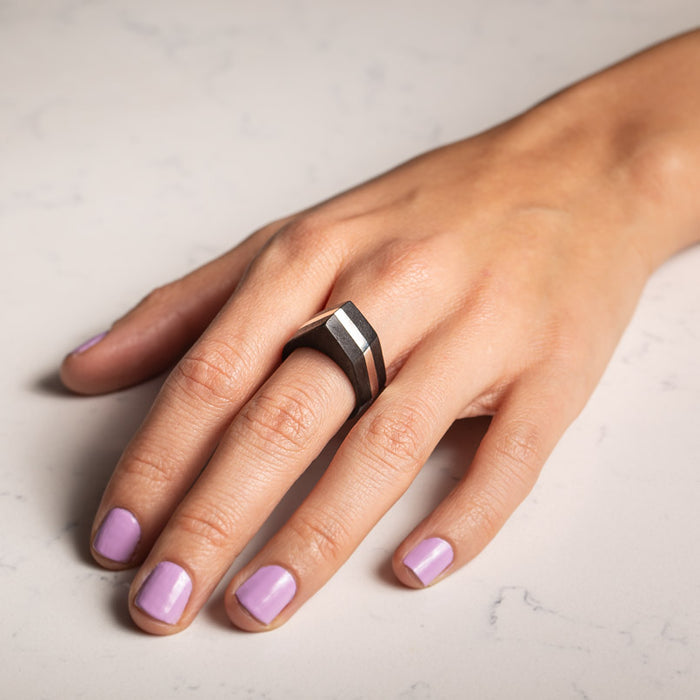 Tribute ring to CookFox Architects. .925 silver and cueramo wood
Inspired by his work: Bank of America Tower. Manhattan, New York
Collection: ODE TO ARCHITECTURE
Concepts of contemporary architecture as a form of expression, vision of the present and the future, a tribute to the forms built by talented architectural artists, to provoke totally natural effects: Emotion and human feelings.
Martha Vargas.
Made by artisans from Michoacán, with traditional silver techniques, wearing it will be an experience as you enter the world of geometry, adding an elegant and cosmopolitan touch, like a sculpture on your hands.
| | |
| --- | --- |
| Brand | martha vargas |
| Collection | Ode to Architecture |
| Key code | 39.3AN.A |
| Part | Ring |
| Sizes | 5 to 9 |
| Metal | 925 silver |
| other element | Cueramo Wood |
| Tall | 28mm |
| Width | 21mm |
| Thickness | 9mm |
| Weight | 5.3 grams |
| brewing method | Handmade, hand finished |
Ring made in .925 Sterling Silver. and Cueramo wood, available in sizes from 5 to 9. A timeless design from the Ode to Architecture collection, designed for you, today's woman.
The ideal ring to wear on any occasion. No one will resist turning to see it, and of course highlight your good taste. Silver, Wood and its unique design combine to attract attention.
Elegant ring with an original irregular cut design that surrounds the silver, highlighting the color and beauty of the wood. It is the perfect gift for yourself or for those special women in your life.
Give a special touch to your outfit with a design from the Martha Vargas brand. Create your own style, using this unique ring of architectural shapes, embodied in silver and wood.