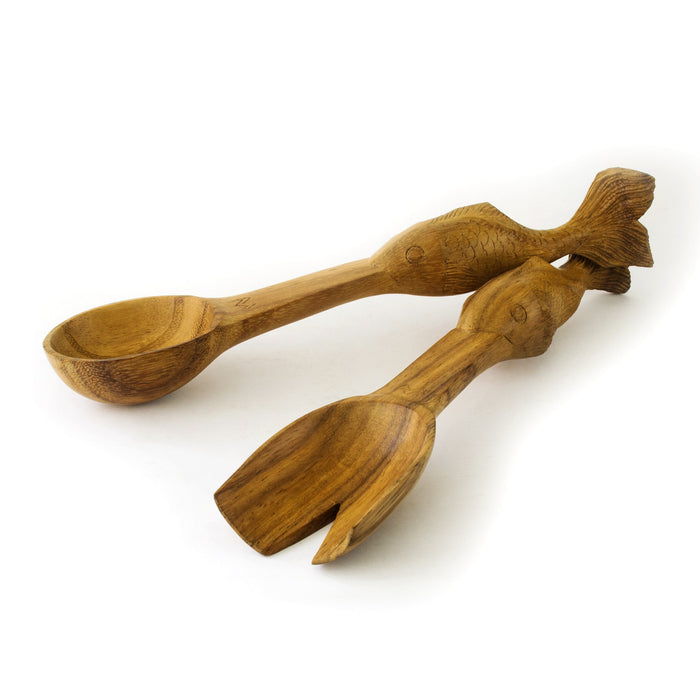 Set of two wooden fish spoons from Parota
Made by artisans from Michoacán, Mexico. Masterfully Hand Carved.
Set of table spoons made of Mexican wood (parota), masterfully hand-carved by Mexican artisans from the State of Michoacán, Mexico.
Set of spoons that will give warmth and a special touch to your table, to enjoy its warmth and ergonomics when preparing your salads.
Sin lugar is a "conversation piece" that helps break the "ice" between visiting friends,
Enjoy its beauty while sharing with your loved ones.
Enjoy its original beauty, design, ergonomics, quality, style. Hand carved by Mexican artisans.
Treat yourself or give an original design in wood, which will accompany you for generations.
We are committed to each of our collaborators to care for, value and preserve the artisanal value.
All the materials we use to create our pieces are sustainable with our planet. We only use certified wood and in support of companies that avoid the deterioration of the ecosystem.
| | |
| --- | --- |
| Brand | martha vargas |
| Collection | The sea |
| Key code | Cu. fish |
| Part | fish spoon set |
| Use | utilitarian / decorative |
| Material | Mexican Wood (Parota) |
| other item | None |
| Tall | 4.5cm |
| Width | 7cm |
| Length | 30cm |
| Weight | 69 grams |
| brewing method | Handmade, hand carved |
| Commitment to the environment | All the materials we use to create our pieces are sustainable with our planet. We only use certified wood and in support of companies that avoid the deterioration of the ecosystem |
| Commitment to our workers | We are committed to each of our collaborators to care for, value and preserve the artisanal value |